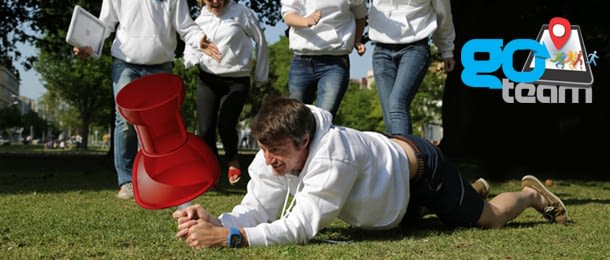 Experience Team Building like never before with Go Team! The latest in Amazing Race-Scavenger Hunt Style events which arms teams with iPads and a high-tech GPS enabled APP to explore your location with plenty of twists, turns, and fun along the way!
Go Team – The Latest In Team Building Technology!
Go Team™ is a hi-tech, interactive treasure trail featuring a GPS Guidance System which helps direct teams to their checkpoints. Using the unique Follow Arrow System and mapping, Go Team can create a voyage of discovery through hidden checkpoints or a strategic journey that rewards planning and creativity.
Checkpoints involve answering questions, taking photos, interacting with locals and game marshalls, and generally engaging with the environment around them. This competitive, fun-filled, and highly engaging activity can incorporate exciting modes of transport and key company messages and be run simultaneously between various locations. Go Team for the latest in GPS based Team Building throughout NZ.
Key Learning Outcomes
Promotes Strategic Thinking
Interactive Fun
Friendly Competition
---
"Team Up Events were professional and easy to deal with from day dot. They totally understood our objectives and tailored the GO TEAM team building event to represent our brand offering and consumer activation perfectly. The result after an hour and a half of fun and hilarity is a fully engaged salesforce that totally understands the key deliverables required of them now 'back on the road' for their sell in. Great team to work with, we couldn't have wished for a better result!"
–  F Whitlock & Sons