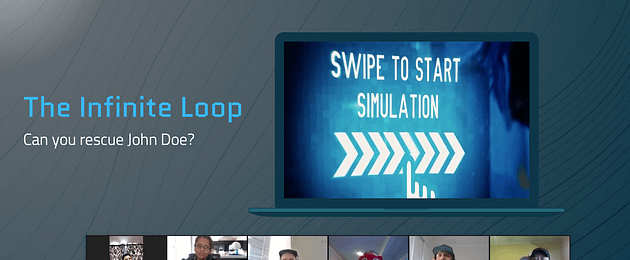 The Infinite Loop – Now available as a remote, online, team engagement event! This fast paced, dynamic, and challenging team building event will challenge participants using the latest in team building technology!
The Infinite Loop Remote
This Virtual Reality themed remote team building event will challenge delegates to join an elite team of white hat hackers on a special mission involving the suspicious "Odyssey Corporation".  A teenager has seemingly become absorbed and trapped in a "virtual world" after purchasing a VR headset from the Odyssey Corporation. It's up to the team of White Hat Hackers to successfully enter this Virtual World and navigate their way through The Infinite Loop to first find and then rescue the trapped teenager!
This 90 minute web based remote event will see one team member at a time enter the "virtual world" through our web based game portal to feedback what they see to teammates in the "real world" who have access to solutions and information cards.
Teams will need to communicate effectively and efficiently to make their way through The Infinite Loop which contains a series of locked rooms and cryptic clues. As the clock ticks down teams climb the upward curve of continuous im 
The only question that remains is will your team be the first to conquer The Infinite Loop Remote? To find out more contact us today!
Key Learning Outcomes
Cross Functional Communication
Challenge Problem Solving
Improve Team Dynamic
---
"Working with Team Up Events was a pleasure! They were professional, organised and enthusiastic at every turn and our expectations were exceeded. Our team are still raving about the Infinite Loop virtual reality challenge and it was certainly a great bonding experience for the team! We couldn't recommend Team Up Events more highly" 
– Air New Zealand