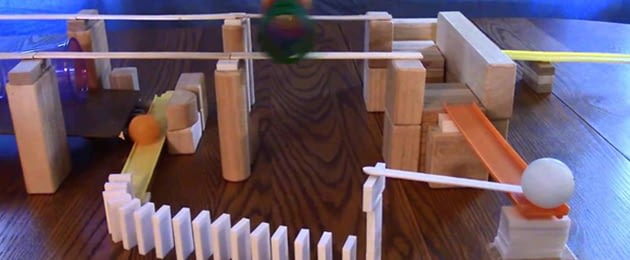 Welcome to the Team Up Events Fun Factory which is Chain Reaction – Remote. Designing and developing a series of simple machines, teams will embark on a creative collaborative experience unleashing the ultimate Chain Reaction!
Chain Reaction – Remote!
With limited time, and only the resources found within the home/ office available, participants will be challenged to design and develop a series of simple machines which link seamlessly together to create your organizations very own virtual Chain Reaction! 
Utilising Video Conferencing facilities, teams will be briefed together before breaking out into individual rooms in order to communicate, plan, and collaborate to produce their very own Virtual Chain Reaction Video's! Faced with the challenge of creating a series of complex machines and contraptions, teams will develop a common vision, a shared goal, and bring to life a series of virtual cascading inventions!
This 60 to 90 minute online event will connect your remote team with a shared goal and bring to life a cascading sequence of unique inventions! 
For more information contact Team Up Events today
Key Learning Outcomes
Stimulate Creative Thinking
Cross Functional Communication
Collaboration
---
"It was an absolute pleasure to work with Sera and Anna from Team Up Events. Our grads thoroughly enjoyed the Chain Reaction activity, and many of them continued to talk about how fun the event was, how they loved being challenged and getting out of their comfort zone. Well done team!"
– BNZ