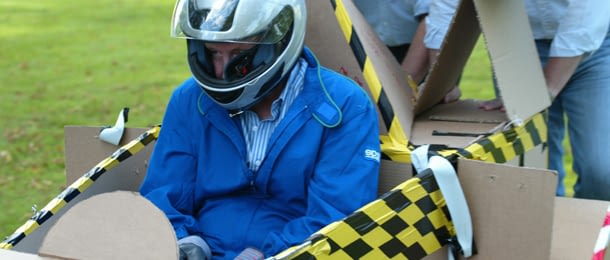 The ultimate team test, where working effectively and efficiently means milliseconds – the difference between the podium and the pits in Flat Out Formula 1!
Flat Out Formula 1 – Life-size Cardboard Racing!
Flat Out Formula 1 tests the communication skills, collaboration, and resourcefulness of your team whilst constructing the ultimate model kit – an almost full scale Formula 1 racing car made from cardboard!
Working from detailed construction plans, each Flat Out Formula 1 team has to rally their collective skills to turn a 'flat-pack' kit of materials into the ultimate driving machine and at the same time, create human-horsepower aiming for perfect synchronisation.
Racers are you ready? It's time to go Flat Out Formula 1!
Key Learning Outcomes
Project Planning and Management
Improve Team Dynamics
Team Bonding
---
"This is the second year that I've used Team Up Events for our annual conference. I had total confidence that this years event would be run perfectly based on the outstanding experience my team and I had last year. Their communication is first class and this is backed up by a high energy performance. I have very high standards and use Team Up Events to help deliver upon our conference theme and message, and to ensure that there is plenty of laughter and enjoyment for the team as we reset and focus on the year ahead. I have no hesitation in rating them 10/10."
– Turners Finance