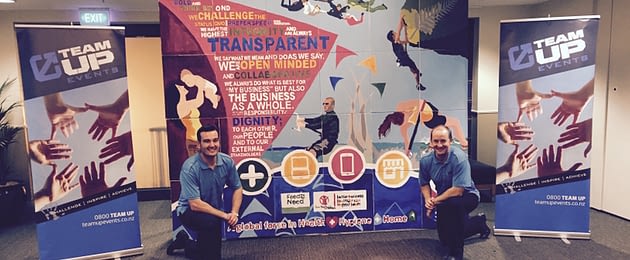 This is no ordinary team event! The opportunity to develop a picture with specific relevance and significance to your business through collaboration, communication, and of course the unknown, will result in your team seeing The Big Picture!
The Big Picture – Collaborate, Communicate, Create!
Everyone knows it's important to step back and look at the 'big picture' every now and then. Particularly when looking at an organisation and how its people operate and communicate internally. With The Big Picture the importance of teamwork, co-operation, and communication is reinforced through the process of painting an artistic masterpiece of truly epic proportions.
In this truly unique indoor team event, participants will collaborate and communicate to create an enormous interconnected multi-canvas artwork reflecting your team's goals & values.
Key Learning Outcomes
Key Messaging
Cross Functional Communication
Collaboration
---
"The Big Picture was a fantastic event which positively engaged all of our staff from start to finish. Expertly planned and facilitated by Team Up Events, the end product far exceeded our expectations and really showed what can be achieved when all parts of the team are pulling in the same direction. We cannot recommend Team Up Events and The Big Picture highly enough if your are looking for a professional, innovative, and collaborative event for your team"
– Reckitt Benckiser NZ