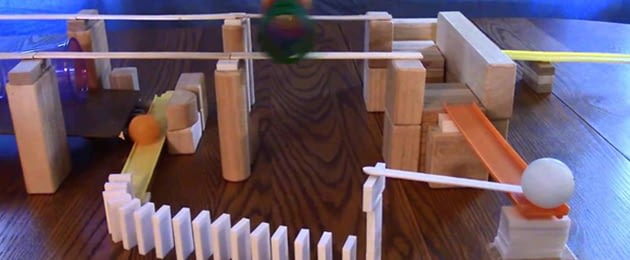 Welcome to the Team Up Events Fun Factory which is Chain Reaction. Designing and developing a series of simple machines, teams will embark on a creative collaborative experience unleashing the ultimate Chain Reaction!
Chain Reaction – bring it to life!
Faced with the challenge of creating a series of complex machines and contraptions, teams will develop a common vision, a shared goal, and bring to life a series of cascading inventions!
This hands on, all action, table-based, indoor Team Building activity will challenge teams to find out what teamwork is all about. With each team provided a series of unique, obscure, and interesting resources, their ultimate challenge is to create a table-based domino effect.
The twist (revealed during the event) comes when teams must find a way to link their various stations together in a collaborative finale which reveals the importance of communication, planning, and the power of working together!
Key Learning Outcomes
Stimulate Creative Thinking
Cross Functional Communication
Collaboration
---
"Our Mid year company event was a afternoon to remember, all our staff had a great time and a lot of laughs.Thank you Team Up for a great event"
– Monaco Corporation