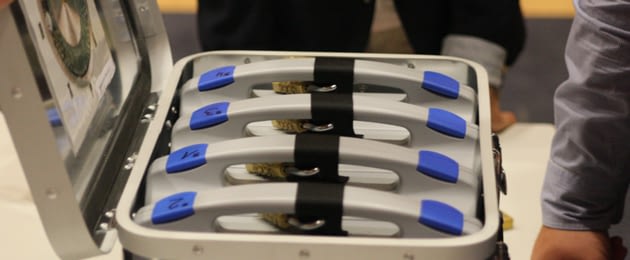 As the lights are dimmed and an obscure video message begins to play, a mysterious voice challenges the participants to a seemingly simple game. Crack the combinations, solve the clues, and decipher the special code to stop the countdown clock! Can your organisation Beat the Box?
Beat the Box – Escape Your Conference
Teams must utilise the talents of all participants to solve a series of cryptic and perplexing challenges to decipher a special code in this escape room style team event. Little do the the teams know at the beginning that collaboration is the key to success as it is impossible for one team to solve the code on their own!
A single locked silver box is the only resource available to each team as the event begins. The first challenge is to gain access to the four padlocked cases inside which contain information that can crucially provide the answers to stop the countdown clock. As teams focus internally on accessing their own box, what began as a competitive event now takes on a collaborative focus. Your company as a whole comes together to share information, combine their talents, and collaborate like never before to Beat the Box!
Key Learning Outcomes
Break Down Silo Mentality
Cross Functional Communication
Collaboration
---
"Beat the Box was an awesome team activity! It really got the team fired up and showed them that they all had to come together and work as a team in order to beat the box. I can still hear the beating of the timer countdown now! Thanks Team Up Events"
– Gregg's