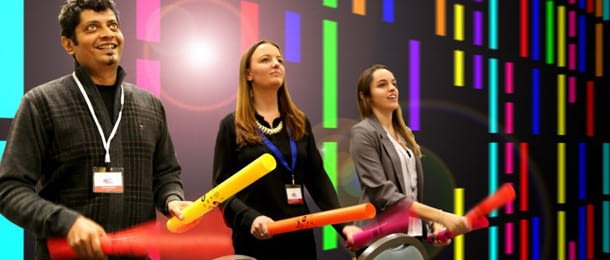 Get ready for Boom Time. A Unique, high-tech, mass participation musical workout, that provides a completely unique collaborative conference energiser with guaranteed results! Feel the beats coursing through your body as your team unifies to create adrenaline-pumping music.
Boom Time – Energiser & Ice Breaker
Boomwhackers are precision-tuned musical tubes which your team will use to smack, thwack, and thump themselves into a musical frenzy. This infectious icebreaker activity will transform any conference room into a colourful, fast-paced orchestra. One thing is for sure, participants will be engaged, enthused, and energised for the day ahead!
The proven success of Boom Time in igniting conferences and generating a real sense of excitement is nothing short of incredible. Within minutes, your conference room can be transformed into a musical playground of excitement.
Key Learning Outcomes
Collaboration
Improve Team Dynamic
Interactive Fun
---
"We used the services of Team Up Events for our conference opening activity. They delivered a programme called "Boom Time" which was an activity choreographed to music. The event was well run, high energy and Stu was a fantastic facilitator. It woke everyone up, set the energy level for our conference, was a great coordination and team work activity and a lot of fun!" 
– Office Products Depot