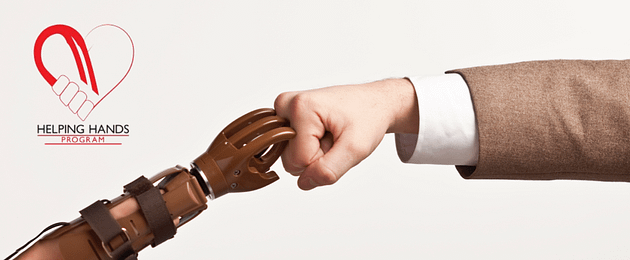 The Helping Hands Programme is about changing lives. It's about accessing the potential of your team's hands, heads, and hearts to build a better team, better organization, and a better world. 
Helping Hand Program – Charity Team Building
Each participant (working in a small team) will have the opportunity to build a real prosthetic hand, which will dramatically change someone's life. It's not often we can go to bed at the end of the day and say to ourselves, "I changed someone's life today." Helping Hands provides that opportunity. 
Over one million people in developing countries are in need of a hand – a functioning prosthetic hand. Hands are lost for a variety of reasons – the main cause being landmines. These people are very poor and have absolutely no chance of getting a functional hand. This is where the Helping Hands Program comes in. It helps address this need while, at the same time, being an extremely powerful team building event. 
Key Learning Outcomes
Community Engagement
Improve Team Dynamic
Team Bonding
---
Greg and Monique provided a fantastic team building event for our Unit. Everybody had a great time and got involved. Greg and Monique both had incredible personalities which really helped the team to get in the spirit. Overall I have found your company amazing to deal with, always prompt to respond and no query of mine was ever a hassle. 10 out of 10 service! Thank you Team up events!
– Hamilton City Council