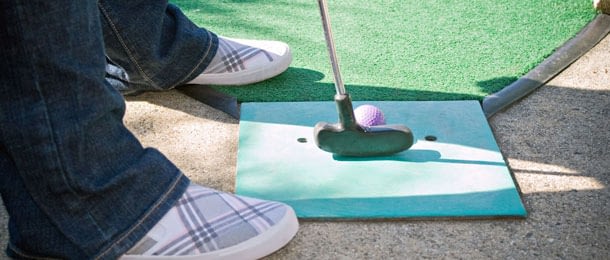 The Putting Edge is mini golf with a Charity Team Building twist – utilise the resources and time frame provided to design and build your very own unique golf hole, before giving it a par rating and taking on the entire course to find The Putting Edge!
The Putting Edge – Charity Team Building
This unique and novel event combines team bonding with a socially responsible outcome that provides a thoroughly enjoyable Charity Team Building programme. Teams will compete to earn a parcel of non-perishable food items with which they must use to design and build their very own mini golf hole.
Teams must name the golf hole, provide a par rating, and also provide tips to mastering its play for the other competitors. From here it's time to get out your putters, practice your shots, and showcase the Putting Edge – if you have it – by achieving the lowest team score for completing the course. As the winners are presented their trophies, the introduction of a representative from a local food bank or community organisation catches everyone by surprise.
From here the course is dismantled and repacked as it is announced that the food items are to be donated to an organisation or family in need, and at this point The Putting Edge takes on a whole new meaning as a Charity Team Building Event.
Key Learning Outcomes
Stimulate Creative Thinking
Interactive Fun
Community Engagement
---
The Putting Edge was a great team building event, enabling all members to show their strengths and to bring out their creative ideas. The challenge to complete the task in the set amount of time, was rewarded with the ability to play on each other's inventive courses. At the end, the gifting of the food to a very needy cause was also extremely fulfilling for all those involved. Thank you Team Up Events!
– Sealord NZ