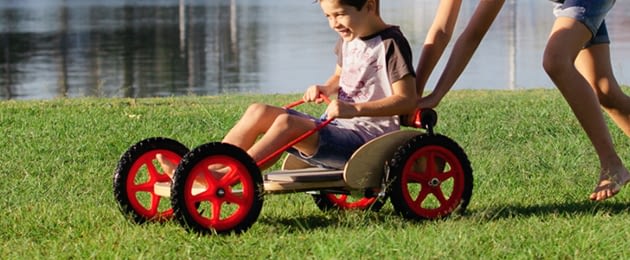 Combining good old fashioned Box Cart Derby fun with a charitable link to the community, this event will be sure to hit all the right notes for your team as they tie their shoe laces, strap on a helmet, and get ready to build it, race it, and donate it!
Box Cart Derby – Build it, race it, donate it!
Everyone remembers younger days building soap box carts out of neighbourhood scraps and racing the steepest hill you could find – well, with Team Up Events Box Cart Derby we've upped the ante! Teams will battle it out across a range of recreational style challenges to earn the parts and tools necessary to assemble and race the latest, most modern and high quality Box Carts currently being manufactured!
Once assembled it's time to hit the track and race like there's no tomorrow! However, in keeping with the times, people-power will fuel these modern day Box Carts in a Derby like no other as teams race relay style for company bragging rights. As the checkered flag swings and teams cross the finish line, the surprise introduction of a local community group rounds out a fantastic charity Team Building event for all involved.
Key Learning Outcomes
Improve Team Dynamic
Interactive Fun
Community Engagement
---
"What an awesome event! We had so much fun and the charity aspect at the end took our team building experience to the next level. Thanks so much to everyone at Team Up Events for making this possible, it's great to work with such a professional and helpful team like yours"
– Reckitt Benckiser