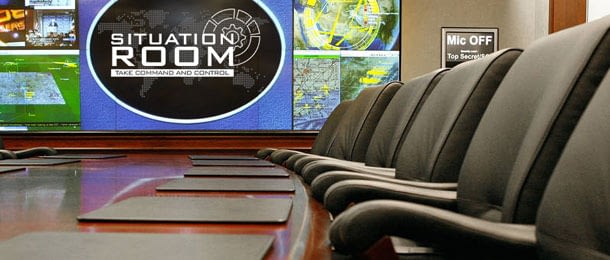 The Situation Room. Ladies and Gentlemen, we have a Situation! With little information and a major illicit trade deal about to unfold, can your team of experts analyze the clues and make the right decisions to bring down organized crime!
The Situation Room – Business Game
The Situation Room is a time-pressed event that challenges teams to think quickly, assess real-time information, and make the right call. In this illicit trade simulation scenario, The Situation Room puts teams to the test to learn from each other, identify strengths and weaknesses, and to assess situational leadership under pressure! Is your team ready to take command and control of The Situation Room? 
Key Learning Outcomes
Situational Leadership
Promote Strategic Thinking
Cross Functional Communication
---
"The Situation Room simulation exceeded our expectations. Faced with immense time pressure and the need to apply agile ways of working, the program challenged our teams ability to be action focused whilst balancing speed with accuracy in assessing real time information. A fantastic event" 
– Reckitt Benckiser