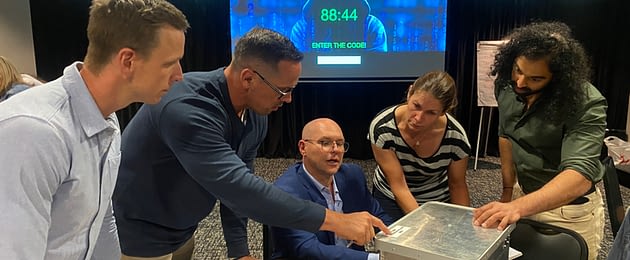 The team from City Fitness lit the fire of collaboration at their recent National Management Conference in Wellington in January!
With over 100 delegates flying in from all over the country for the first time in just over a year, there was a sense of excitement and anticipation at The Rydges Wellington. Upon arrival delegates were invited to have a bit of fun with our In The Picture ice breaker. This creative activation certainly appealed to the playful and outgoing nature of the group!
Following the morning's conference sessions it was time to engage and connect the City Fitness delegates "Team Up" style!
City Fitness Beat the Box!
The premises for Beat the Box is based around a unique step change through the course of the event. Participants must adjust and adapt from a competitive mindset to that of a collaborative attitude in order achieve success.
At the beginning of the event, teams are formed and briefed on the need to open a locked box on their table. Next they must solve the challenges and ultimately stop a 90 minute countdown timer. Little are they to know that this objective cannot be completed on their own or without information from other teams.
As the event unfolded and teams began to work through the first locked, the need for information from other groups became clear. Teams now found themselves starting to transition from a competitive to collaborative mindset in order to progress (although often it started with "taking" rather than "sharing").
With pressure building as the 90 minute timer ticked down, the energy in the room was contagious. As several teams now started taking the lead in coordinating communication and the flow of information, the fire of collaboration had been lit and progress was quickly being made.
The final case in each team's box required all 13 teams to come together as one to solve the final challenge, with just over 8 minutes remaining on the timer the groups first attempt at entering the code was incorrect, a quick check and reshuffle resulted in success – the team from City Fitness had Beat the Box!
For more information how you can connect, engage, and align your team as part of your next conference or event, contact on of our team on 0800 TEAM UP or email info@teamupevents.co.nz