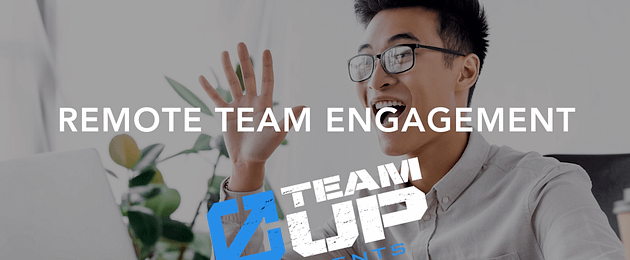 Team Up Events is excited to announce a 5 week Remote Team Engagement Series designed to provide event organisers the opportunity to experience the latest in online team building programs and activities.
Managing Director Stu Robertson said, "this is an exciting opportunity for Leaders, Managers, people who work in Human Resources, and anyone who organises Business Events, to experience first hand the possibilities and options for remote team engagement"
Featuring a different online team building event each week over a 5 week period, those interested can register for an action packed 45 minute session which discusses program set up and requirements, key learning outcomes and takeaways, as well as the chance to get hands on and "play".
The Remote Team Engagement Series follows on from the successful Remote Team Engagement Showcase hosted by Team Up Events on the 21st of May, which received rave reviews from those who attended.
Robertson went on to say "the Remote Engagement Series provides attendees the opportunity to sample a range of online team building programs and also instil confidence that the same high standard of experience that they have come to expect from our face to face events is also achievable now in the virtual world".
To Register to attend an online Team Building demonstration simply select from the program options below:
Thursday 28th May 10:00-10:45am The Infinite Loop
Wednesday 3rd June 10:00am – 10:45am Escape the Mob
Tuesday 9th June 10:00am – 10:45am Global Innovation Game
Tuesday 16th June 10:00am – 10:45am Game Show Live



Click Here to learn more about the Program
Click Here to register to attend Program Demonstration
Tuesday 23rd June Remote DiSC Introduction
For more information, or to discuss your next online team building experience contact Team Up Events on 0800 832 689 today!
"We contacted Team Up Events to help us with some remote workshops we were running to develop a high performing team of new leaders. We wanted our new team to understand themselves and their colleagues better, appreciate how they could improve communication between them and their own team members and finally we wanted them to have some fun seeing it in action! Team Up Events delivered the goods with a remote DiSC profile session at the start of the week and virtual The Infinite Loop activity later on- the teams loved it!!" 

BNZ