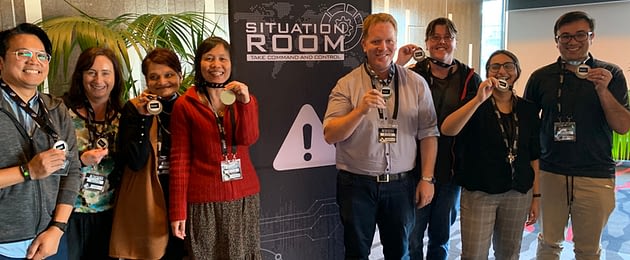 In 2019 Team Up Events was proud to launch a business simulation based event called The Situation Room in New Zealand. Designed and developed by our very own Managing Director Stu Robertson, the program was an instant hit. The program delivers key learning outcomes for clients based around Agile Ways of Working, Situational Leadership, and Cross-Functional Communication. Fast forward 12 months and The Situation Room Launched Globally and is receiving rave reviews from partners and participants alike.
The Situation Room Launched Globally
The first Situation Room Event was delivered in Bali in February 2019 by Team Up Events for an international client and there has been no looking back since. It is now available in over 70 countries around the world exclusively through the Catalyst Global Team Building Network. The event has tapped into on trend business outcomes, and provided a point of difference in a market where new and original concepts are becoming increasingly difficult to design.
"From the moment you entre the room with flashing lights you will be captivated. A Netflix style video sets the scene and from then on it's a quality engaging experience all the way with frequent video up dates upping the anti and putting teams under pressure against the clock.

Many of our partners globally are creating unique programmes for the network but only the best get through our rigid selection criteria, the main one being '' does it cover aspects of team work not currently covered by our already huge list of offerings. The Situation Room is a fantastic addition to the network''
Guy Baker CEO Catalyst Global Team Building Network
In the Situation Room, teams will be challenged to think strategically and apply agile ways of working in order to link the right people and information at the right time. As a result, participants will develop an understanding and appreciation of the important role that cross functional communication plays in situational leadership and high performance under pressure. 
"The Situation Room has really raised the bar in terms of the quality, look and feel of a high calibre team building product. It is evident that great thought, effort and attention to detail has gone into designing and producing the finished article, which wows clients on every occasion. From the excellent production of the dynamic video briefs which steers the gameplay, through to the high level quality of puzzles and challenges that participants encounter along the way, The Situation Room never fails to deliver true added value for all who take on this exceptional team building program."
Jonathan Hazely General Manager Team Challenge Company United Kingdom
Delivered over a 90 minute duration from start to finish, the event features 60 minutes of "game play" with rolling video updates and countdown timers setting the scene.  From here the event moves into a unique team evaluation and group debrief component to discuss key takeaways from the event which could then be transferred back into the work place.
"The Situation Room is always well received by our clients.  Apart from being totally captivating and challenging it is the perfect vehicle to stimulate conversations and insights about how work teams handle tasks in the modern era where QUALITY isn't the only imperative but SPEED enabled by agile mindsets and structures are just as vital. Teams that try to tackle The Situation Room in a linear, round table "committee" fashion soon learn that multi-tasking in a coordinated, collaborative fashion with good knowledge management and situational leadership is the secret success formula to winning when complex problems need to be solved."
Gerry Skerritt Founder and Director of Dream Team Catalyst South Africa
Positioned as an event which will engage, excite, and most importantly challenge your delegates, The Situation Room is the perfect activity to for those looking to spark new ways of thinking, and accelerate the development process for your team.
"Team Up Events quickly understood our business objectives and delivered an event that not only met them, but was a huge amount of fun too. With a tight timeframe, they planned our event with minimum fuss and really wowed the crowd with creative flair and brilliant execution. I'd happily recommend Team Up Events and we'll work with them again in future."
Kelly Brown, CEO, Triquestra New Zealand
For more information about The Situation Room, or to book your next team event, contact one of our offices today on 0800 TEAM UP!