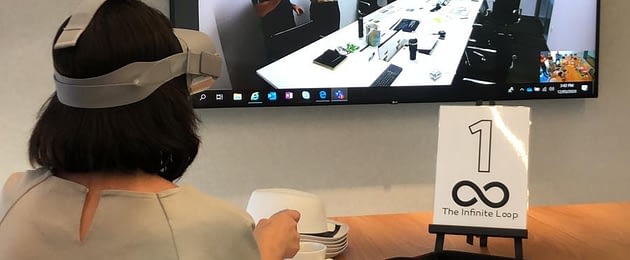 How do you deliver the benefits of team building to a team separated by approximately 8,500 kms of ocean?? You talk to Team Up Events of ofcourse! Whether your team is based in once central office or venue, spread across multiple locations nationally or internationally, or even working remotely, we have a range of creative solutions that include in house, remote, and event virtual delivery, to assist your business!
Remote Virtual Event a World First
With the disruption to travel and conferencing from COVID-19, we were recently tasked with the challenge of facilitating a collaborative event for a management team across 2 locations, simultaneously! Armed with the technology, capability, and of-course expertise, we are very proud to have delivered the world first remote virtual event – The Infinite Loop!
The Infinite Loop is a virtual reality themed and based event which requires participants to take turns entering "the virtual world" and communicate what they see to team members located in the "real world" in order to solve a range of complex challenges to free a trapped teenager.
In order to be able to meet the challenge of facilitating the event across two locations concurrently, we connected with our Catalyst Global Team Building Partners – Asia Ability – to provide the "on ground" support in Singapore. Now with a facilitator in place across both locations, conference call facilities available, and the technology to connect 2 remote teams to 1 collaborative game simultaneously it was time to push play!
With teams briefed together via video link, and then submerged into the Infinite Loop via two VR headsets, the challenge was for both teams to collaborate in order to progress through the 12 rooms spread across 2 levels before the 90 minute timer counted down. The final challenge for success required teams to solve one last enigma together in order to free our "John Doe".
While the challenge may sound simple, the pressure of time and the limitations with communication was only enhanced by the geographical challenges in play. As teams progressed through the event, developed an understanding and appreciation for the different styles of different team members, what unfolded was a fantastic example of iterative learning and streamlining of process in order to achieve peak performance!
"The VR game added a completely new dynamic to our team day and was loads of fun. It was also very insightful, even from the kick off. It allowed us all to experience the team in action and learn about our team dynamics.

We managed to bridge our geographical boundaries between Singapore and New Zealand, via a virtual world enabling both teams to play together, solving many different puzzles and challenges, with plenty of laughs in between! We smashed level 2!!!"
Zespri
For more information about The Infinite Loop, contact Team Up Events today on 0800 TEAM UP or email info@teamupevents.co.nz